First De La Beckwith. Then Killen.
Next: Justice for Emmitt Till
By Jasmine Thompson
I hear people saying things like:
"Why did we prosecute Killen?" "The man's old and coming apart at the seams. Why doesn't somebody just let him die?" "Things happened so long ago. Just let history alone and move on."
If this were just about one crime and one criminal acting on their own, those might be good questions. But this was about state-sponsored terrorism and crimes committed with the concurrence of government. They were also crimes committed against every good person – black and white – with the goodness in their heart that told them that racism is wrong.
Acts like those against Medgar Evers, Emmitt Till, Goodman, Chaney and Schwerner were also state-sponsored crimes of intimidation to keep good people silent. Mississippi will not get past the crimes of history without a state-sponsored action.
But make no mistake, this is not just about punishment. The Nuremberg Trials were not only about punishment and the culpability of those being tried, but about justice to all -- to those maimed, killed and mutilated.
Justice outranks punishment because it offers a cultural repudiation of criminal behavior and that act brings justice -- to the individual directly wronged and to society as a whole.
"But why Killen and why now?" People still ask.
What's happening now began in 1990, a couple of weeks before Christmas when a grand jury in Jackson indicted Byron De La Beckwith of the murder of Medgar Evers. Evers had been gunned down in front of his home in 1963. An ambitious young district attorney in Hinds County, Bill Waller, brought De La Beckwith to trial and endured his own abuse and anonymous death threats to see justice done. Waller also resisted intense pressure from the racists who controlled the state -- the Stennis/Eastland Democrats who had made their careers standing in the school house door and who thought good race relations was providing new paint to freshen up the "Colored Only" signs smeared across the Mississippi landscape like ugly cultural graffiti. In this atmosphere, Waller got hung juries in two separate trials. Given the all-white juries back then, the verdicts stood as a partial victory, and the indication that not all white people were behind Mississippi's brutal apartheid.
Less than ten years later, Mississippi elected "nigger lover" Waller as governor thanks in large part to the FBI backed up by the guns and steel of the federal government and national guard troops. Rev. Martin Luther King Jr. 's non-violent protests showed the nation their dedication, their suffering and helped Americans understand the evil. But they could never have succeeded without the federal muscle even the Klan had to respect.
Bobby DeLaughter got a conviction in the Evers case, and that produced more than simple justice for Myrlie Evers and her children. It sent a tremendous signal that Mississippi had changed, and if we got a conviction here, it might happen everywhere. Light bulbs went off all over the South and pretty soon we had convictions in the Birmingham church bombings and in a whole lot of other Klan killings. All the way up to Indianapolis and Pennsylvania.
So, to those that ask "why Killen? Why now?" I say that if you feed one person's hunger for justice in a case like Killen's, then you can feed a whole people. It's a fish and loaves thing. And sooner or later, the past will be past and Mississippi can move on.
BUY AND USE THESE STAMPS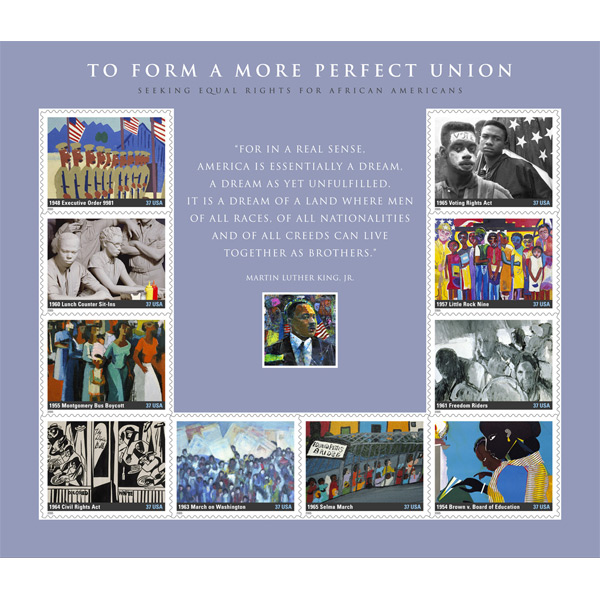 Available now from the U.S. Postal Service.
The text below is from the USPS site and describes each of the stamps. Put away your postage meter and your e-stamps and use these stamps to show respect to these brave, talented, dedicated people.
To Form a More Perfect Union
The courage and achievement of the men and women who struggled to bring the vision of the nation's founders closer to reality during the civil rights movement will be recognized on a pane of 10 stamps. Stamp designer Ethel Kessler uses details from contemporary artworks to illustrate the historical events commemorated on this stamp pane.
* William H. Johnson's Training for War, a silk-screen print made circa 1941, recalls President Harry S. Truman's Executive Order integrating the military, issued on July 26, 1948.
* The landmark Supreme Court ruling in Brown v. Board of Education (1954), declaring that separate educational facilities are inherently unequal, is suggested by Romare Bearden's lithograph The Lamp (1984).
* The Montgomery Bus Boycott is represented by a detail from Walking, a painting made in 1958 by Charles Alston.
* George Hunt's painting America Cares (1997) remembers the nine courageous students who were the first African Americans to attend Central High School in Little Rock, AR.
* The sit-in movement to integrate "whites-only" lunch counters is recalled by an exhibit created for the National Civil Rights Museum by StudioEIS, a design and fabrication firm in New York.
* A gouache by May Stevens, Freedom Riders, made in 1963, honors the men and women who risked their lives that year on integrated bus trips through the South. March on Washington, painted in 1964 by Alma Thomas, commemorates the great demonstration of 1963.
* The Civil Rights Act of 1964 is suggested by Dixie Café, a brush-and-ink drawing made in 1948 by Jacob Lawrence.
* The march from Selma, AL, to the state capital, Montgomery, in the spring of 1965 is represented by Selma March, an acrylic painting made in 1991 by Bernice Sims.
* The Voting Rights Act of 1965 is suggested by Bruce Davidson's photograph Youths on the Selma March, 1965.
* The image used on the selvage depicting Martin Luther King Jr. is a detail from a painting made by Louis Delsarte in 2000, From Selma to Montgomery.